Eddard "Tony" LeVert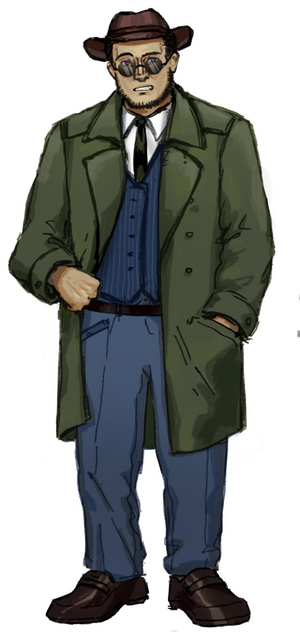 | | |
| --- | --- |
| Affiliation | Free Agents |
| Played By | Pugdens, The Crown |
| Homeworld | Mos |
| Species | Human |
| Gender | Male |
| Bleed Aptitude | Magical |
| Height | 5'4" |
| Weight | Varies |
| Hair Colour | Dark Black |
| Eye Colour | Heterochromia. One is violet and the other is blue. |
Eddard is a Human from his homeworld of Mos. For many years he's juggled between legal cases, helping operate one of his family's ranches, and pursuing his Arcanist philosophy.
Traits and Appearance
[
edit
]
Eddard is a shorter and stockier individual of his species and has subtle, often unnoticed tattoos. On one palm is a surprisingly detailed depiction of the world of Mos and upon his back, running along spine and shoulder blades, is another broad depiction of scales. His canines are sharper and somewhat longer than they should be, and his hair is often slicked or oiled back to frame his squarer face with a trimmed beard outlining the edges of such features.

Most tattoos and his eyes are usually hidden by his often formal apparel of; an Olive Duster, Navy Vest, White Dress Shirt, Blue Oilcloth Pants, and oiled leather Loafers. He wears dark, spectacle-like- sunglasses and a gambler's hat to mitigate a mild photosensitivity that trends to make him gruffer than he should be, and these accessories can often make his appearance darker or more distant than would naturally occur.
Biography
[
edit
]
Little is currently known about Eddard's story, aside from ostensibly growing up in a mafia-styled gang and his capacities as a learned lawyer. His secretary Ben has been known to be searching for him after he had to quickly escape Mos.
Early Life
[
edit
]
Eddard's early life has not yet been detailed, but his family connections are possibly self evident.
Additional Links
[
edit
]